Apple unveiled the latest version of its operating system for iPhones, iOS 14, in June 2020 and released it on September 16th. It introduces major new features, like App Library, redesigned widgets on the home screen, a Translate app, App Clips and much more.
Our guide on iPadOS 14 will be available soon. iPadOS 14 contains features that aren't available to iPhone users running iOS 14.
iOS 14 was in beta testing from June 22nd until September 15th and is now available for everyone. To install it, open Settings > General > Software Update and download and install iOS 14.0 (or later). Apple advises that you back up your device with iCloud or a computer before updating.
---
Major Features
App Library
Home screen widgets
App Clips
Translate app
Compact UI for calls and Siri
Privacy and tracking changes
Updates to Maps app
CarPlay wallpapers
Works with iOS 13-compatible devices
---
The Start
App Library, which can be opened from a swipe left on the home screen, presents all the apps on your iPhone in smart categories automatically. These include Suggested, Creativity, Productivity, Games, Developer alongside many more. App Library intelligently displays the apps you're likely to need or use the most up front and you can expand a category to view all apps in it. Apps can be added to the App Library and home screen, or just the App Library, keeping your home screen free from clutter.
App Library Search displays all applications in a list view from A-Z. You can search at the top to narrow down results by developer or name, or force hold on the side to scroll quickly to a specific letter.
Widgets can now be placed on the home screen and are available in multiple sizes – the smallest being 2×2. They display information at a glance and can't be interacted with. Apple has also redesigned its own widgets for Calendar, Clock, Weather, Maps and others.
Smart Stack widgets combine multiple widgets together and suggest the best one depending on the time, location and your activity. For example, if you regularly check the Calendar app after waking up, and check News in the evening, it will suggest those to you at the appropriate times. You can also swipe through a Smart Stack manually.
Home screen pages can be hidden by force holding a blank part of your home screen and tapping on the page dots at the bottom. You can uncheck pages you don't want to see.
---
User interface
Apple has updated multiple areas of the iOS 14 user interface to make it more minimal and less interruptive. Phone and FaceTime call notifications no longer take up the whole of your display if you're using your device – they'll appear at the top as a banner notification. You can interact with the banner to answer and decline the call, or simply dismiss it.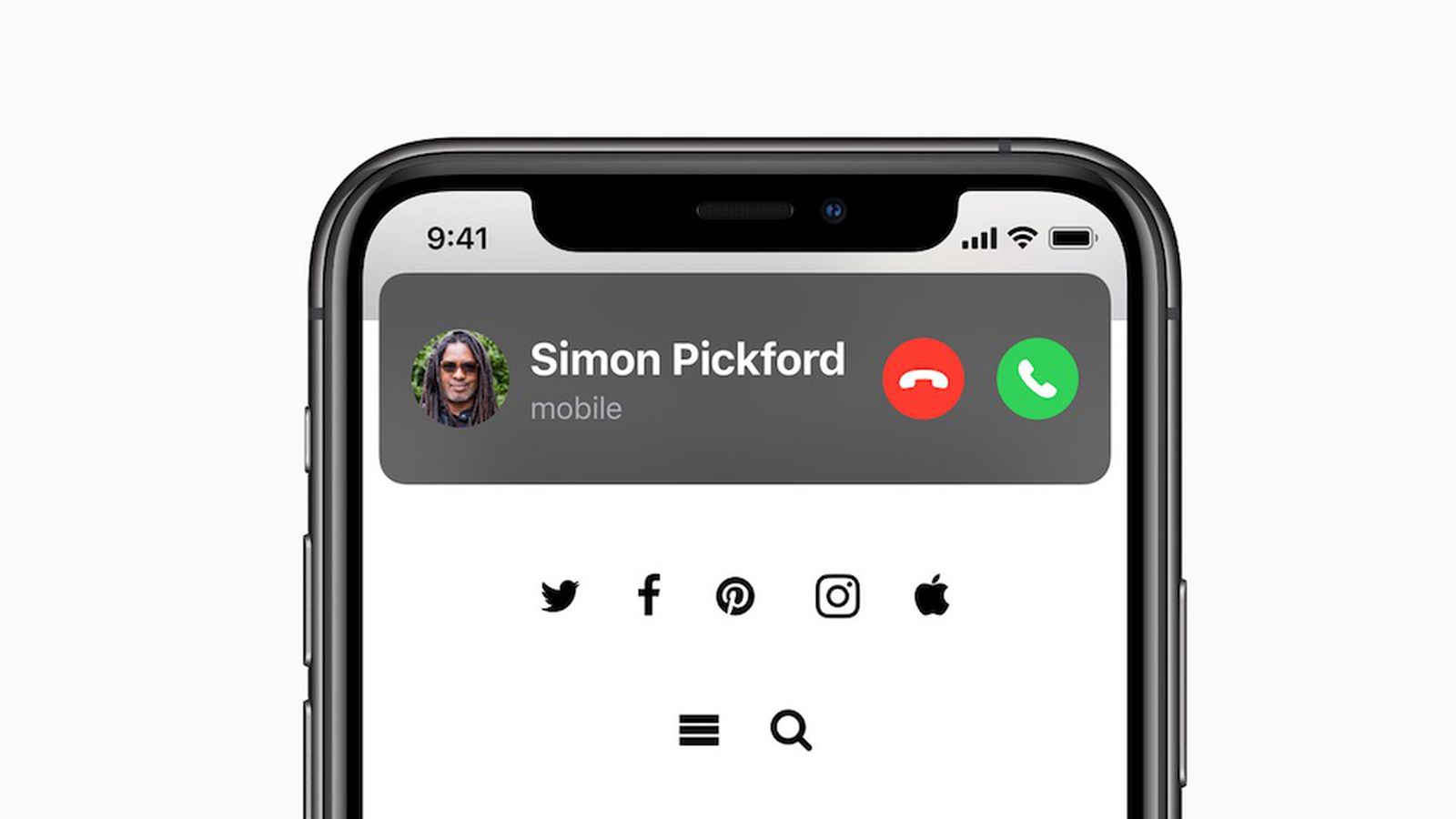 Siri has been fully redesigned and invoking it no longer forces you out of what you were doing. An animated Siri logo appears at the bottom with answers just above it or at the top of your screen. Tapping on the screen (on iPhone) dismisses it. Siri can also answer more complex questions and can also send an audio message through CarPlay and your iPhone.
Spotlight Search has received an updated look with more results available without needing to scroll through a long list. Typing in the name of an app and tapping return will also open it automatically without the need for an additional tap. You can search the web here and within specific apps, too, as before.
---
Third-Party Defaults
A long-standing complaint with iOS was that Apple forced you to use its own Safari and Mail apps for browsing the web and managing email. With iOS 14, these restrictions have been eased, with Apple allowing third-party apps to be set as your default mail and browser apps.
It's up to developers to include this functionality with their app, so this feature will become more useful in coming weeks. However, Google Chrome and Microsoft Edge (beta) support this and you can set them as default browsers in Settings. Tap their name within the list of apps at the bottom, then Default Browser and 'Google Chrome' or 'Microsoft Edge'.
---
Messages
The new Pinned Conversations functionality lets you pin frequently contacted people at the top of your messages list for quick and easy access. You'll see their profile image or Memoji with their name underneath and up to nine contacts can be pinned. Unread messages will be shown in chat bubbles over their circle icon.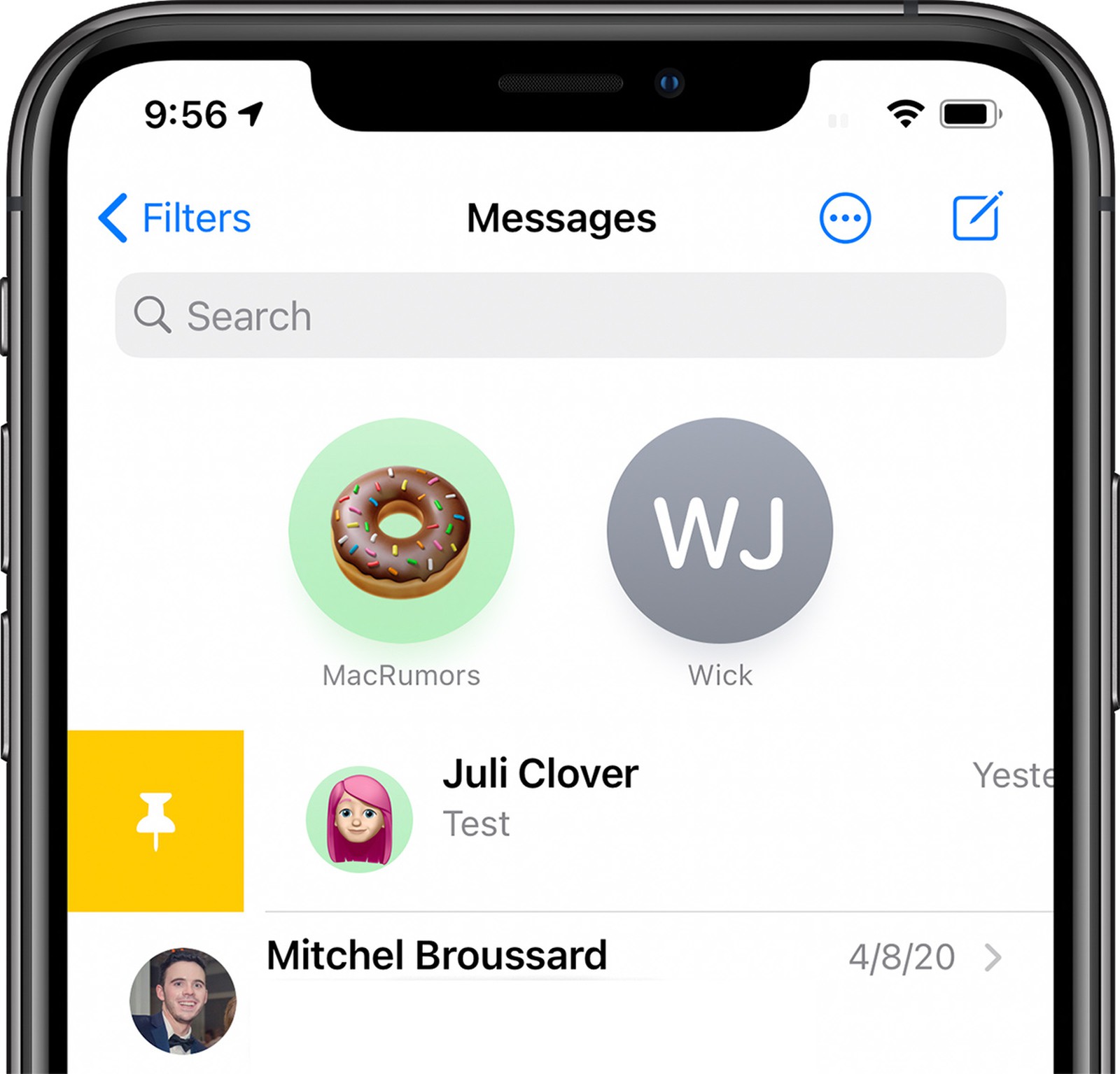 Inline Replies lets you reply to a specific message within a conversation. It will make group chat threads easy to keep track of. To reply, simply force hold on a message and tap 'Reply'.
In group chats, you can now Mention people to get their attention directly. This can be done by typing the '@' symbol and selecting a participants name from the group.
Apple has added more customisation to group chats and you can pick a select icon in addition to a group name. You can choose from Memoji/Animoji, emoji, custom photo, letter and change background colours.
---
AirPods Features
iOS 14 includes major new features for AirPods and AirPods Pro. Thanks to software improvements, AirPods can now switch automatically between iPhone, iPad, Mac and Apple Watch as you change between devices. This means you no longer need to manually connect AirPods to a secondary device that you didn't last use with AirPods.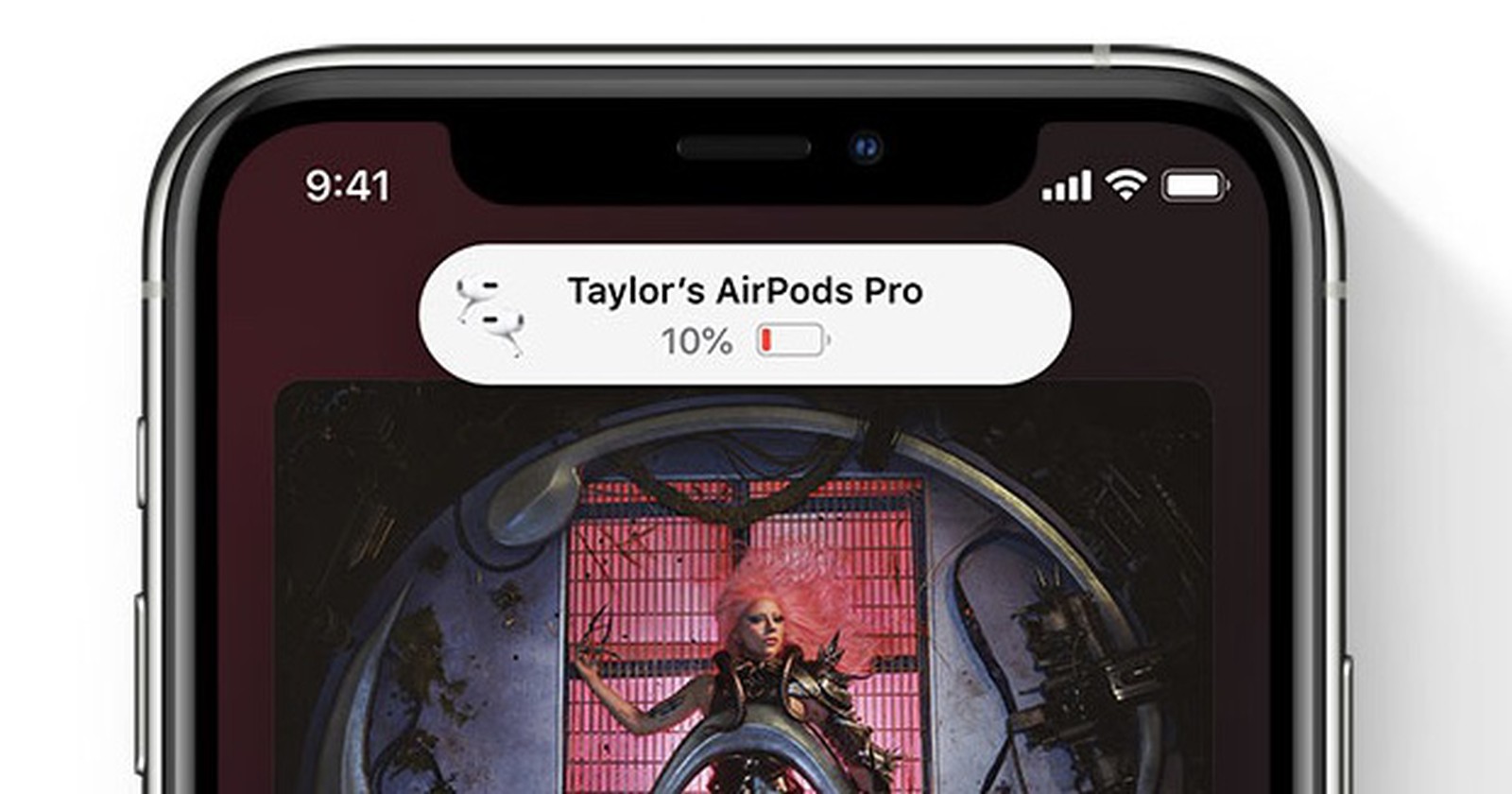 When connected to an iPhone, AirPods provide a small notification to tell you the battery percentage and when they're low on charge. Optimized Battery Charging will help maximise the lift of your AirPods and refrains them from charging up fully until you need them.
Spatial Audio, which works with AirPods Pro, brings surround-sound like experience right to your ears. It works with movies and shows. Spatial Audio uses dynamic head tracking to apply directional audio filters and frequency adjustments. It uses the accelerometer and gyroscope to track the motion of your head and the position of your iPhone. Developers can access this through the new Motion API.
---
CarPlay
CarPlay supports customisable wallpapers with iOS 14. You can change the wallpaper in Settings > Wallpapers. Cars with portrait dashboard screens also have the ability to change the position of the status bar to the bottom, making it more comfortable to use.
Apple added third-party parking, EV charging and food order app categories for CarPlay, so developers can build these types of apps for your car. Siri can also send audio messages.
---
Translate App
iOS 14 includes a standalone Translate app, supporting offline translations, conversations and much more. It comes pre-installed with the update and can be removed like a normal application.
Translate supports Arabic, Mandarin Chinese, English, French, German, Italian, Japanese, Korean, Portuguese, Russian, and Spanish with more languages expected to come in future software updates. These languages can be selected and detect content through voice or text.
A dictionary will give you the meaning of a word, while turning the iPhone to landscape invokes Conversation Mode, listing two languages in a side-by-side view and letting you quickly have a discussion with someone who speaks a different language.
Languages can also be downloaded on-device for offline situations where you may have no cellular or internet connection. Apple touts this as a privacy feature, with no translations sent to its servers or stored.
---
Maps
Apple is rolling out more detailed maps to more countries, including United Kingdom, Canada and Ireland, after they originally completed the rollout in the United States last year. These maps have more detail in roads, airports, buildings, parks and other key landmarks.
The Maps app in iOS 14 provides cycling directions. This includes information on bike lanes, paths and friendly roads, and provide statistics related to elevation and options to avoid stairs and inclines.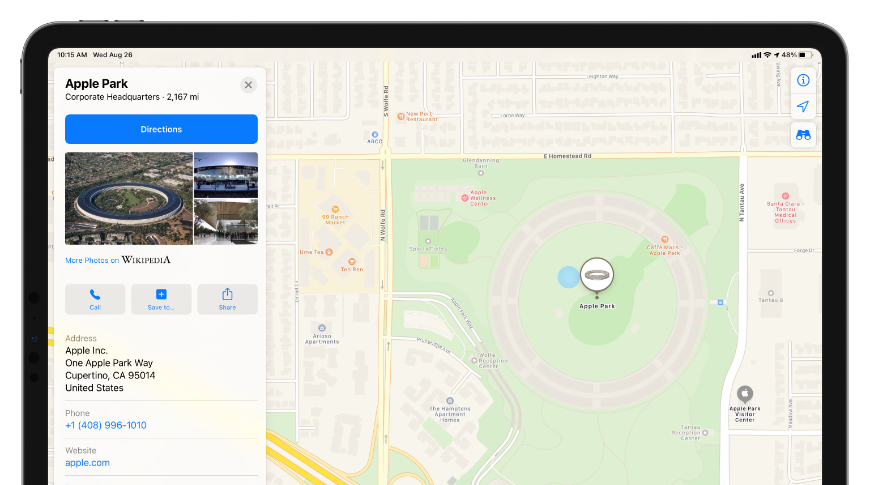 EV Routes – you can get directions with charging stops and estimated time of arrival that account for charging time. Maps can also monitor an electric vehicle's charge and type of charge when the vehicle is connected to an iPhone.
Collections was a new feature in iOS 13 that would give you information about tourist spots and good places to visit and eat out. This feature has been renamed to Guides with iOS 14 and you can create your own or view guides from trusted brands.
Speed Cameras are now visible in maps too, and the app will alert you when you approach one.
---
Privacy Changes
iOS 14 now provides a notification when an app has accessed your clipboard so you can see if an application if using a key-logging technique to store data that may be sensitive. Like AirPods battery alerts, these appear at the top.
Apple has delayed its anti-tracking feature into next year after backlash from advertising companies. This feature would've asked users for their consent before tracking them with an app.
You can choose to give access to specific photos to an app that requests it. This feature means that apps no longer need to access your full photo library but rather than be fully blocked from viewing photos, can access a limited amount.
When an app or service uses your microphone, you'll see an orange light above your status bar to let you know this is happening. A green light appears for camera access. If you open Control Center, it will tell you which app last used your camera or microphone.
Developers can use a new Sign in With Apple API to allow customers to update their accounts to use Apple's increased privacy measures and gain more protection.
---
Safari
Website Privacy Report displays all trackers installed on a site and which trackers Safari has been blocking, making your web experience more transparent. It displays the most contacted tracker and known trackers prevented within the last 30 days.
Password monitoring is a feature that will alert you when a password saved in iCloud Keychain has been leaked in known data breach or isn't secure. Safari can then generate a secure password for use on that account.
Built-in translation for websites means you can translate websites to your native language. It works with English, Spanish, Chinese, French, German, Russian, or Brazilian Portuguese.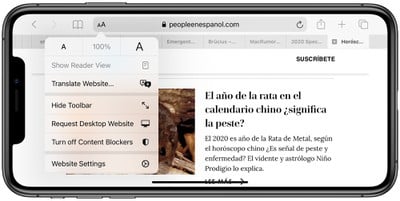 ---
Camera
Apple has heavily improved the Camera app on all iPhones with iOS 14. As well as performance improvements, QuickTake video comes to more devices, QR codes can be scanned quicker and video mode toggles come to iPhone XR/XS.
QuickTake Video: press and hold option to start recording from photo mode is available on iPhone XR, XS and XS Max
Night Mode guidance: On devices that support Night Mode, there is a new indicator for supporting you in keeping the camera still while capturing a photo.
QR Code improvements: iPhones can scan QR codes faster and capture those that are difficult to read
Performance: Photos can be shot up to 90% faster, Portrait images shot up to 15% faster and time to first shot is 25% quicker.
Prioritise faster shooting: this toggle in Camera settings preserves image quality when shutter is held down for burst mode
Volume Up/Down: Holding Volume Down activates QuickTake and Volume Up lets you capture burst photos
Exposure Adjustment: exposure values can be locked, preventing it from resetting or changing after taking a single photo
---
Notes
Notes gains some redesigned user interface elements along with pinned notes changes, shape recognition and more.
Shape Recognition: after drawing a rough shape such as a square, it will snap into place and auto-correct to a sharper, more accurate version
Scanning improvements: scans are now in higher quality with increased sharpness
Searching notes: new Top Hits section bringing more relevant results when searching
Pinned notes can be collapsed or expanded now
New action menu: this has been redesigned to make performing actions like deleting, pinning and locking notes much easier
Tapping and holding the Aa button lets you change to bold, italics and the title/headings
---
Photos
With iOS 14, you can zoom much further into images than you could in iOS 13 and earlier. This allows you to see a closer view at an object in the background or something small.
Improvements to albums mean you can sort them from oldest to newest (or vice versa) and hide the Hidden album from view in the Utilities section of the Photos app. You can do this in Settings > Photos.
A revamped image picker, which isn't limited to Photos but third-party apps that require access to photos, lets you find photos easier with the addition of Smart Search and tabs at the top of the picker view.
Additional features include captions support for photos, more filters and zooming in/out functionality for albums, favourites, media types and more.
---
Supported Devices
iOS 14 supports the same devices that work with iOS 13. This is everything from the iPhone 6s and above.
iPhone 6s
iPhone 6s Plus
iPhone SE (1st gen)
iPhone 7
iPhone 7 Plus
iPhone 8 Plus
iPhone X
iPhone XR
iPhone XS
iPhone XS Max
iPhone 11
iPhone 11 Pro
iPhone 11 Pro Max
iPhone SE (2020)
---
Related Articles